Welcome to "Sensational Haiku Wednesday!"
according to what you did
it tracks you down, haunting you
sadly though you won't go far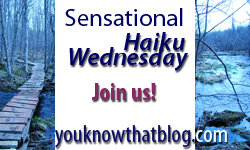 And speaking of Karma, a psychic friend of mine once told me that the easiest way to earn good karma in this lifetime is through your parents. Treat them well and life will treat you better, she said.

The Dalai Lama himself has this to say about how to earn good karma points...
Take into account that great love and great achievements involve

G

reat

R

isk.
When you

L

ose, don't lose the

L

esson.
Follow the three R's:
-

R

espect for self,
-

R

espect for others and
-

R

esponsibility for all your actions.
Remember that not getting what you want is sometimes a wonderful

S

troke of

L

uck.
Learn the

R

ules so you know how to break them properly.
Don't let a little dispute injure a great relationship.
When you realize you've made a mistake, take immediate steps to correct it.
Spend some time

A

lone every day.
Open your arms to change, but don't let go of your

V

alues.
Remember that

S

ilence is sometimes the best answer.
Live a good,

H

onorable

L

ife. Then when you get older and
think back, you'll be able to enjoy it a

S

econd

T

ime.
A

L

oving

A

tmosphere in your

H

ome is the foundation for your life.
In disagreements with loved ones, deal only with the

C

urrent situation.

D

on't bring up the past.
Share your

K

nowledge. It is a way to achieve immortality.
Be gentle with the earth.
Once a year, go someplace you've never been before.
Remember that the

B

est

R

elationship is one in which

Y

our

L

ove

F

or

E

ach

O

ther

E

xceeds

Y

our

N

eed for each other.
Judge your

S

uccess by what you had to give up in order to get it.
If you want others to be happy, practice

C

ompassion.
If you want to be happy, practice

C

ompassion.
Source: Spiritual Now