I came home late one night and found a cute handmade card tucked under my laptop. It was from my daughter Jazzy...
Her very touching message left me teary-eyed. Attached to the card is a poem which she wrote for me a year ago (she decided to share it with me only now). It goes like this...
I
t gives us
l
ight,
even in the darkest
o
f night
It's always something to look forward to e
v
eryday
sinc
e
it lights up our way.
We wake up in its sunn
y
ray
and instantly say
o
r think "it'll be a good day."
Living positively, as always,
as happy as can be, is what God says.
White or yellow, it's never the same
for God is the one who keeps it tame.
Even in the smallest of amo
u
nt
it always makes us happy even just an ounce.
At the back of the paper where her poem was written, there was a postscript:
"Treasure this while I'm still a good teenage girl. LOL! :D I'm turning 14 already so please bear with me because it is natural for me to want to go out with friends like ahia (big bro) does [to GMall, Victoria Plaza, SM, sometimes NCCC]. Especially this summer! Love ya!!! -Jazzy-"
Kids do have a sense of humor and they can be so clever and creative if they want (or need) to. See those highlighted letters on the poem? They read: "I love you."
Oh Jazzy, I am so impressed... BUT the answer is still NO. Lol!!! Just kidding... :-* Of course, you can go out with your friends as long as I know where you are, who you are with and you keep me posted always. You're a big girl now and I trust you. You know the rules, right?
I love you too, princess!!!
SENSATIONAL HAIKU WEDNESDAY
sweet melodic tune at heart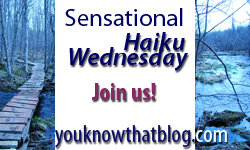 The basics:
Haiku is simple! It is 3 non-rhyming lines of 5, 7, and 5 syllables respectively (a great way to use your fingers!). Traditionally about nature, we certainly don't need to stick to that theme. In fact, we have

a different theme every week

!
Jenn
of
You know... that Blog?
,
thanks for hosting
Sensational Haiku Wednesday...