setbacks and roadblocks,
spices to victorious sweeps...
refuse to give in
daunting it may seem,
twists and turns or uphill climb...
persist and you'll win
don't you dare quit now
obstacles and snags could be
blessings in disguise
Haiku is simple! It is 3 non-rhyming lines of 5, 7, and 5 syllables respectively (a great way to use your fingers!)
This week's theme is:

Challenge!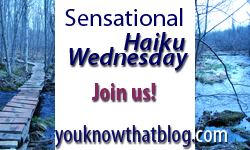 Next week's theme:
Travel